Apartments Beroullia
Private accomodation in Brela
Discover Brela
Brela is a small tourist resort situated on the Makarska Riviera. We offer the riches of the crystalline sea, six kilometres of natural pebble beaches, the scent and the beauty of the thick pine tree forest (in large part a natural monument), numerous pedestrian zones which entangle from the walking area along the coast, to the old hamlets, proud of the old Dalmatian architecture, and all the way to the peaks of the mountain Biokovo.
Apartments
The apartments consist of 2 to 4 bedrooms. Each room has a bathroom with shower, balcony, fan and sea view. Also rooms are equipped with sheets and towels. Towels are changed every 3 days, bed linen every 7 days. The kitchen and dining room is equipped with a stove, refrigerator, cooking utensils and cutlery. Each apartment has a terrace, TV, Wi-Fi, parking and barbecue. The house is located on a hill, 100 meters from the beach. Each offer is an individual because it is charged per person.
Parking, grill, SAT TV and WiFi are available for use.
Towels are changing every 3 days, and bedclothes every 7 days. Apartments general cleaning is included in price. Accommodation tax is included in price.
Small market is 5 minutes away from our house, and a stand with fruits and vegetables. Center is 2 km away. The promenade, along the beautiful beach in the shadow of centennial pines, leads to the downtown where the traffic, in general, is forbidden.
Sea: 100 m
Beach: 100 m
Downtown: 2 km
Groceries: 200 m
Restaurant: 300 m
Doctor: 2 km
Pharmacy: 1.5 km
Bank: 3 km
Post office: 2 km
Gas station: 12 km
Bus station: 12 km
Train station: 50 km
Airport: 80 km
Marina: 2 km
Sport activities: 1.5 km
Disco club: 3 km
Casino: 12 km
National park: 100 km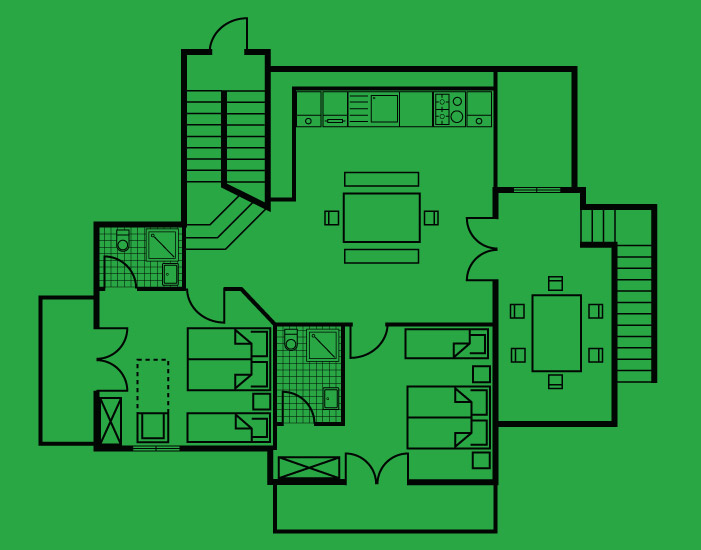 A4+3 (A6+4)
Apartment for four persons with three extra beds
125 m2, Internet, Bathroom, Kitchen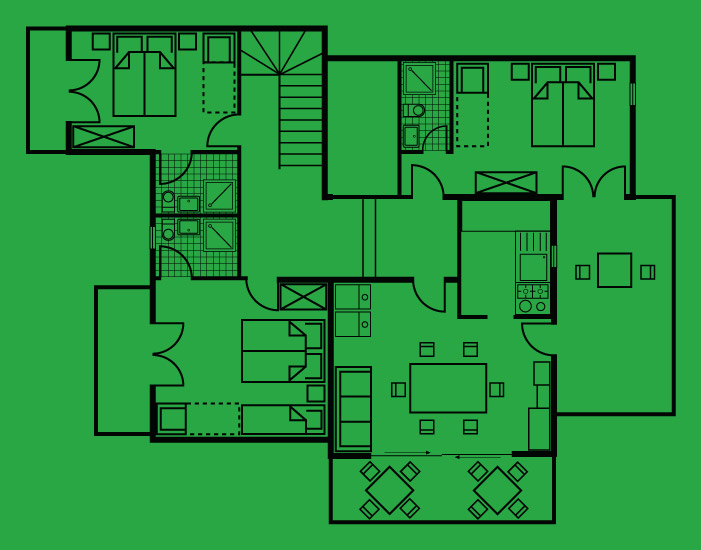 A6+3 (A8+4)
Apartment for six persons with three extra beds
125 m2, Internet, Bathroom, Kitchen
Contact
Where are we
Stomarica 27, 21322 Brela, Hrvatska